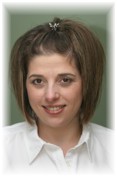 Tracey L. Turavani is a Niagara based business woman who aims to manage the demands of business and family responsibilities. In her professional life, at Sensible Office Services, she is busy supporting other businesses by leveraging their time, so that they may concentrate on building and enhancing their business while she handles the administrative tasks required for the smooth and efficient operation of a business. On a typical day she might be supporting one client or as many as six throughout the day.
Tracey began taking on administrative roles in the early 1990's while completing her education at Algonquin College. Since that time, she has worked in various administrative responsibilities. Tracey is very proficient in a multitude of office related computer programs, general customer service skills and office management. She takes pride in continually updating her skills and training with the evolving marketplace in an effort to stay on top of the best services available that she can offer her clientele. Prioritizing and multitasking skills are essential, in both the management of her business and personal life.
What our customers have to say about Sensible Office Services...
Sensible Office Services has been providing our administrative support for years now. Tracey has shown incredible flexibility and professionalism with the at times stressful demands in our industry. She has developed a wonderfull repoire with our clientele and has earned both their trust and respect in all aspects of the business. I am able to concentrate on the sales aspects of my business while Sensible Office Services provides the crucial administrative tasks that I could not possibly do myself.
Richard Sabourin - President, Trimark Sales and Marketing

---
"Tracey and SOS have been a tremendous asset to my small consulting business. As a trainer and facilitator with the non-profit sector, I primarily work alone and my technology skills are not my strongest suit. I first met Tracey through her membership in Small Business Club Niagara. I engaged Tracey to create a series of PowerPoint presentations based on a huge amount of legal information. Tracey churned out the presentations over a very tight time frame and the results were beyond my expectations. What she achieved in a few hours would have taken me 3 times as long to complete. I've found her rates reasonable and a far better use of resources than struggling through on my own.
What I really like about Tracey's service is her sense of humour, responsiveness and timeliness. She completes tasks within tight deadlines and is able to tweak and enhance documents that I send to her in draft form. She makes me look good. Sometimes I think SOS stands for Save Our Sanity. I recommend her without reservation."
Gay Douglas, Gay Douglas & Associates
---
"Let me take this opportunity to say thank you for your assistance with my project last month. With out your assistance I would not have been able to meet the deadline imposed by my new client. You saved me time, which means you saved me money."
"Tracey, you have been an invaluable help to me and my business. By taking care of the back-office administrative responsibilities (those things I am not good at), you have freed me up to do more sales, and more speaking. Thank you for your professionalism and your attention to detail!"
"I wanted to take a moment just say how happy I am that you are out there. My Inspection, Renovation, and Carpentry business has grown over the years that I have been finding it more difficult to keep up with some of my administrative tasks. Since I have started using your services you have saved me countless hours, allowing me to have more time to focus on the areas of my business that I do best. If time is truly money, you are worth every penny!
"I just wanted to pass along to you the
many
very positive comments and compliments I have received from clients after viewing my website. They find it "beautiful", "easy to manipulate", and "really professional." Keep up the good work!
"Tracey designed and revamped all my promotional materials and web site and helped me implement them to maximize my potential markets!"
"I had Tracey put together a brochure for me. The finished product was fantastic. She did a great job in designing my brochure and completed it in a timely manner. I would recommend her services highly. I was very pleased with the work she did."
"Dear Tracey
Thank you for the excellent workmanship on the Database that you verified for IMM.It is wonderful knowing that you take the same amount of care and consideration for my work that I would have done.I will continue to work with you happy in the knowledge that you do top notch work and I will not hesitate to refer you to my clients.
Again, thank you for your efforts.
"Thanks Tracey for lightening my load and getting rid of my stress".